Feeling monotonous of your daily routine? Want to get rid of this monotony? Well, all that you need is a break and in the meantime you can visit world's longest sea beach Cox's Bazar. You can dive into the Bay of Bengal, can play a beach volleyball match on the golden sea shore or can have a fruit cocktail or delicious seafood. Here we have all the arrangements for your enjoyment.
Popular Destinations: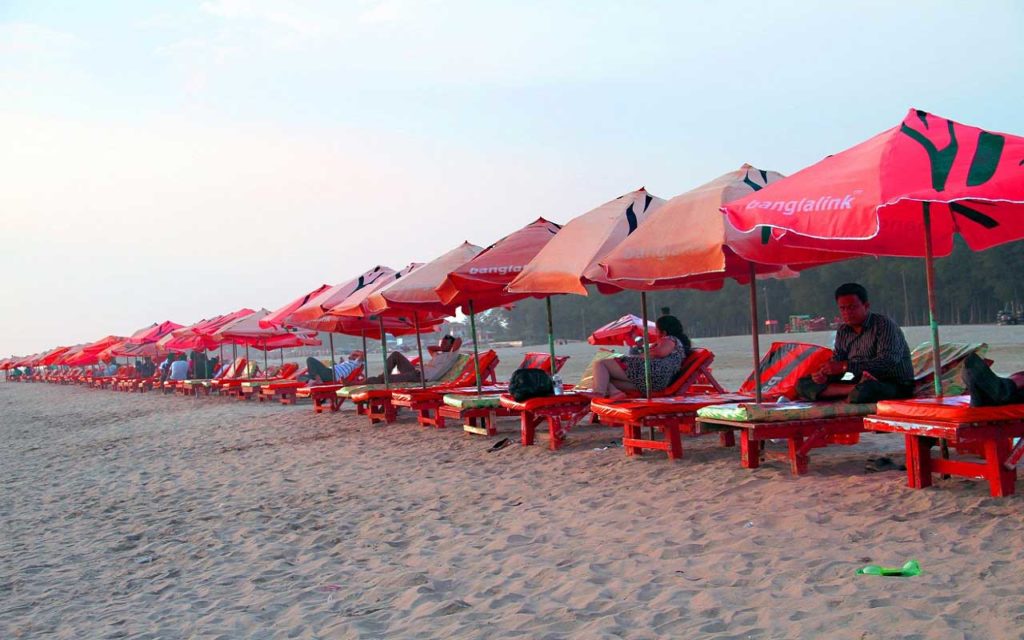 Cox's Bazaar
Cox's Bazaar is the tourist capital of Bangladesh. Sloping down to the blue water of the Bay of Bengal against the picturesque backdrop of a series of hills covered with dense forest, Cox's Bazaar sea beach is the longest sea beach in the world. It's total length is 120km. Located 150 km south of Chittagong, this place got its name from Captain Hiram Cox, an officer of the British East India Company. It is the place of miles of golden sands, lofty cliffs, surfing waves, amazing conch shells, beautiful pagodas, Buddhist temples and tribes and mouth watering sea foods.
The shark-free beach has its own reputation for bathing, sunbathing, swimming and surfing. The breathtaking beauty of the setting sun behind the vast sea is fascinating. Visits to the beautiful places like Himchari, Teknaf, Inani Beach, Buddhist temples at Ramu and islands such as Sonadia, St. Martin and Maheshkhali can make your journey memorable.
Laboni Beach:
It 's not only the prime sea beach of Cox's Bazar but also it's the closest to the town. Near the sea beach, you will find hundreds of shops selling different items to the tourists. This beach remains over-crowded for its convenient location. Tourists can enjoy sunbathing, jogging, surfing, jogging and swimming here. This beach is the best place, especially for swimming and relaxation.
Inani Beach:
This 18-kilometre-long (11 mi) sea beach is only half an hour's drive from Cox's Bazaar. With the deep sea to the west and a backdrop of towering cliffs to the east, this beach will spellbound you with its enchanting view. It has a lot of very sharp black and green coral stones.
Ramu
About 16km away from Cox's Bazar sea beach, This Buddhist village is situated on the main road to Chittagong. There are a number of monasteries, khyangs and pagodas with great religious importance which are rich in years old artifacts, scripts, relics etc. There's a large bronze statue of Buddha which is more than thirteen feet height. The people of this Buddhist village are very charming and peace-loving.
Himchari:
About 32 km south of Cox's Bazar town this place is famous for its broken hills and a number of waterfalls. The biggest one cascades down towards the beach. There is a reserve national park and you can see limited number of Asian elephant here.
Bangabandhu Sheikh Mujib Safari Park:
It is the first ever Safari Park in Bangladesh. Here Animals are kept in fairly large area with natural environment and you can see them whenever you visit by bus, jeep or on foot.
Maheshkhali
This Island has an area of about 268 square kilometers. The center of the island and its eastern coast is a bit hilly but the west and north is bordered by mangrove forest. In the hills, you will see the shrine of Adinath. By its side, there is a Buddhist temple.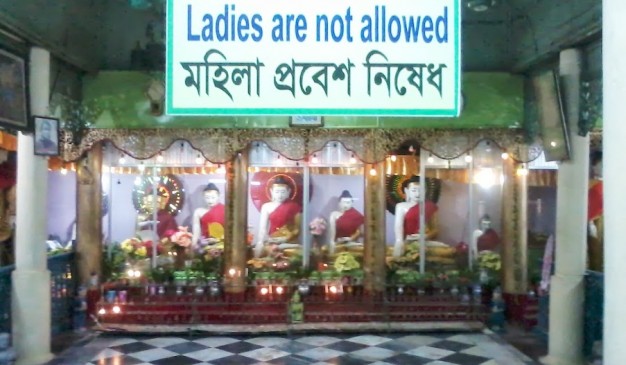 Aggmeda Khyang
This massive Buddhist monastery is adored by about 400,000 Buddhist people of Cox's Bazaar and the Chittagong Hill Tracts. The main sanctum is placed on a chain of round wooden columns. It has a tabernacle and an assembly hall along with a reservoir of big and tiny bronze Buddha images and a number of ancient manuscripts.
Teknaf:
80 km from Cox's Bazaar, Teknaf is the southernmost tip of Bangladesh and bordered by Myanmar. Visiting this small town will be an amazing experience because the road goes alongside the beautiful Naf River and through forested hilly areas.
How to Go:
From Dhaka, you can go to Cox's Bazar by both road and air. Nonstop AC and non-AC bus service is available. It takes 10-12 hours from Dhaka to reach in Cox's Bazar sea beach. If you are out of time then you can go to Cox's Bazar by air. It takes only an hour to reach in Cox's Bazar from Dhaka by air.  Nonstop flights are available from Dhaka and Chittagong.
Do
Swimming and surfing:Swimming here will be a great experience but be careful about the waves and low tide even if you are good swimmer. Look at the life saving watch tower and be sure that the "Green Flag" is hoisted instead of "Red Flag". The hotel won't object if you walk through the lobby with your wet body but don't forget to take shower at the designated place.
Having Green coconut and bananas: You can find plenty of green coconuts and bananas here on the beach and they are pretty cheap. So sid idly on the sandy beach and have green coconut juice and bananas and enjoy your tropical holiday. Just don't throw the coconut shell or banana peel here and there on the beach. Though a mobile phone company conducts the operation of cleaning the beach in every hour in their social responsibility, it's our duty to keep the beach neat and clean.
Surfing: This beach has surfing facilities. A local man named Jafar Alam established surf club and schools with the help of some of his American friends. Though their primary goal is to teach the Bangladeshis how to surf, they loan their equipments of surfing to any traveler passing trough.
Shopping:
Jewelleries and other show pieces made of sea shells are very popular among the tourists. There are many shops on the sea beach who sell this attractive items but before purchasing them think twice because by purchasing them you'll encourage a non-eco friendly practice. From the Burmese Market you can buy tradition Burmese dresses and fabrics. Here in some stores you'll find pearl jewelleries. You can also collect some local beauty products, hand woven garments and bed sheets among many other things. Dried fishes can be bought from the main market of Cox's Bazar. You can also buy it from the shops near your hotel but it's better to collect from the main market because the price is cheap in the main market.
Food:
Western, Thai, Chinese and continental foods are available in major hotels and restaurants. Various types of local dishes such as Rezala, Korma, mutton, beef, chicken, different types of kababs, polao, biriyani, and khichuri are also very popular. Seafood is most popular here. Different types of fishes, prawns, lobsters, squid, octopus are available here in reasonable restaurants and roadside food chains. If you are a food connoisseur, then you shouldn't miss fresh vetki, smoked hilsa fish, chingri malaikari and prawn dopyaza here.
Drink:
Tea, lassi, green coconut water and different types of soft drinks are available in beach areas. Hard drinks are also available in some selected hotels and restaurants but on Friday it's prohibited to drink in public places.
Where to Stay:
Here you will find different types of Hotels and Motels to stay. Usually these hotels are not far from the beach. From some of them you will able to enjoy the panoramic view of the Bay of Bengal. But the hotels closer to the sea beach are a bit expensive. You will find the budget hotels in the designated Hotel-Motel zone area of the main town. So choose your own according to your budget.