Here is a list of the top 20 Tourist Attractions to Visit in Cuba
1. Topes de Collantes
Located in the Escambray Mountains Range, Topes de Collantes is a nature reserve park. Tourist attractions in Cuba This place can be entered from nearby Trinidad or from the hotels of Topes de Collantes Tourist Complex which is located on the third highest peak in the reserve. Nature is the key Tourist Attractions in Cuba for tourists here. This place offers rivers, falls, caves, natural reservoirs with crystal clear water, canyons. The mesmeric view of mountains encircled by Mariposa (butterfly lily), Cuba's national flower (indicates their presence with a mild unparalleled fragrance from June to early September), enchants the visitors. More than 40 home-bred species of orchids and 100 species of ferns, among which 7 are 6 meters tall palm-like tree ferns, grow here.

Tourist Attractions in Cuba
Banana trees, begonias, jasmine, some species of the ginger family and nearly 40 species of Coffee growing under the shade of 40 m high pines, eucalyptus, West Indian mahogany, and magnolias are making the marvel of this tropical rainforest.  Animal species including the Cartacuba, Cuban ivory-billed woodpecker, hummingbirds and the tocororo (Cuba's national bird) live here.  You can see a total of six parks here: Altiplano Topes de Collanteds, Guanayara, El Cubano, Cayo Las Iguanas, and El Nicho. Here the photogenic El Nicho Waterfall and caves of El Nicho mountains are a completely separate experience. You can enjoy medicinal mud baths, bamboo groves, orchid garden, and cave swims in Codina Park.  Guanayara has simple to mid-level hiking tracks.
2. Varadero
Varadero is the largest and most beloved of Cuba's beach resorts and is also thought one of the world's most beautiful places. It is located on the Hicacos Peninsula, some 140 km east of Havana. The turquoise waters are tranquil and the beaches are of white sand. The seaside city has a number of museums, galleries, cabarets, markets, and small shops of rum and cigar. There are exciting live music scenes and a few bars and fantastic cafés. The Ecological Reserve of Varahicacos is located nearby and it has several hiking trails, plus an opportunity to explore flora and fauna, caves, and ancient wall paintings. The Hicacos Point Natural Park, an ecological preserve was established here in 1974. You can see here the 250 m (820 ft) long Cave of Ambrosio, Mangón Lake and the ruins of the La Calavera (The Skull) Salt Works. Country's one of the two golf courses are located here which is great for golfers, and there are dozens of water sports activities and tour available.
3. Vinales
Viñales is a small town and municipality in northern Cuba. The region is dominated by low mountain ranges.  The area is being protected by constitution since February 1976 and as a result, tourism here is developing day by day. Off-the-beaten-path visitors will find a genuine Cuban countryside experience in Viñales. The Valley of Viñales is a national park and was listed as a UNESCO World Heritage Site since November 1999 for its magnificent landscape, traditional agriculture as well as its own architecture, crafts and music.
Tourist Attractions to Visit in Cuba
Visitors will get the most from their time by staying in a Casa Particular (local's private home), and by enjoying one of its specialized local tours, where visitors can interact directly with locals about their activities. On the Secrets of the Tobacco Tour, tourists can visit the tobacco farm of Luis Prieto, the youngest cigar man in the country, a despalillo where tobacco leaves are processed, and a cigar factory where cigars are made by hand. Tourists can also visit organic farms and different plantations, Lookout of the Aquatic, and the Valley of Silence.
4. Santiago de Cuba
Santiago de Cuba is the second biggest city in Cuba and the capital city of Santiago de Cuba Province. It is located in the southeastern corner of Cuba, some 870 km southeast of Havana. Santiago de Cuba is distinctive for being the most mountainous province of Cuba. It was declared The Heroic City because of its long history of struggles, from slave revolts to the wars of independence from Spain to the resistance to autocrat Batista. The city's rich history can be explored at Museo de la Lucha Clandestina, among others.
Santiago de Cuba is a significant cultural and artistic center and home to Fiesta del Fuego. Tourists who can't make the festival can examine the spirit of it at Museo del Carnaval. Several guided city travels include highlights like Morro Castle, Basilica of Our Lady of Charity of Copper, Ron Caney's Bar, and Céspedes Park. The local citadel of San Pedro de la Roca is listed as the UNESCO World Heritage Site for being the most perfect, best-preserved example of Spanish-American military architecture, based on Italian and Renaissance design.
5. Playa Giron
Playa Girón is a popular beachside community on the east bank of the Bahía de Cochinos (Bay of Pigs) in Matanzas Province, on the southern coast of Cuba. It is situated in one of the biggest wetlands in the world, the Cienaga de Zapata (Zapata Swamp). The nearby village of Giron Was named after the infamous French pirate Gilberto Giron. Visitors won't want to miss Museo de Playa Girón, devoted to the 1961 unsuccessful U.S. invasion, which is delineated in pictures, maps, murals, artifacts, and video. Ecotourism in nearby Zapata Swamp, Cuba's vast wetland and the Caribbean's biggest secured area are very much popular. Playa Girón is famous for its diving and snorkeling opportunities, including shore diving. The caves of Punta Perdiz 2 are great for inexperienced divers, but the Jaruco shipwreck dive is better suited to experienced deep divers. Private home stays also make Playa Girón an unparalleled tourist destination.
6. Moron
Moron is located in Ciego De-Avila Province in central Cuba. It is the oldest municipality of the province. Moron is the nearest city to the tourist resorts on Cayo Coco and Cayo Guillermo. It has the biggest natural water mirror in Cuba, Laguna de Leche. Morón is often mentioned by Cubans as Cuidad del Gallo (City of the Cockerel). It earned this name from a "cocky" colonial official in Morón. Visitors can explore Morón at Museo Caonabo, the city's museum of archaeology and history, plus a stunning view of the city from its rooftop. Terminal de Ferrocarriles is Morón's fine 1923 railway station that is also worth a visit. Don Papa is the best place in the city for 100% Cuban food, and Casa de la Trova Pablo Bernal is the best music house. On Wednesday nights, visitors can enjoy a comedy show there.
7. Matanzas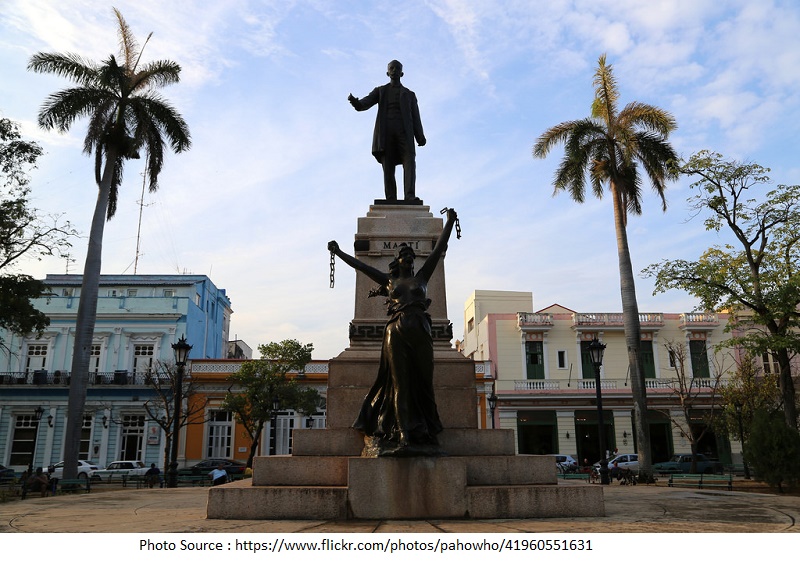 Known for its poets, culture and Afro-Cuban folklore, Matanzas is located on Cuba's northern shore in the Bay of Matanzas, some 90 kilometers east of the capital Havana. It is the capital city of the Cuban province of Matanzas. Sometimes mentioned as the "City of Bridges" and sometimes referred to as the "Athens of Cuba", Matanzas is really a special place in Cuba. The best way to reach in Matanzas and observe Cuba's natural beauty is via the Hershey Train, which starts its journey from Casablanca Station in Havana and stops at Matanzas. Visitors may want to behold the five bridges of the City of Bridges, especially the Bacunayagua Bridge. Historical things that can attract the tourists include the famous Casino Prince Alfonso, the Pharmaceutical Museum, and San Carlos Borromeo Cathedral. Visitors will also admire magnificent Cayo Blanco beach and Bellamar Caves.
8. Manzanillo
A municipal city in the Granma Province of Cuba, Manzanillo is the 14th biggest Cuban city and the most populated city not being a provincial seat.  Manzanillo is located in the glorious Sierra Maestra Mountains in the southern region of Cuba. It's the place where the modern revolution in Cuba was initiated and where Fidel Castro and his rebels disassembled in 1956 after leaving exile in Mexico. Till now, it maintains its revolutionary spirit and contains a number of historical monuments, museums, and squares showcasing the struggle for Cuban independence.
The Museo Historico la Demajagua shows the history of the Cuban independence movement from 1868 to the present day. Manzanillo isn't just a historian's dream venue; it also features wonderful beaches and a wealth of Tourist Attractions in Cuba, such as the Criadero de Crocodilos, one of Cuba's crocodile farms. Manzanillo is the home of the Medical science faculty of the University of Granma.
9. Jibacoa
Jibacoa or Playa Jibacoa is situated in the Santa Cruz del Norte municipality of Mayabeque Province of Cuba. This fishing village is located some 60 km east of Havana.  Jibacoa is often considered as Cuba's well-kept secret for its wonderful, calm, and unspoiled environment as well as its strategic location, which is approximately halfway between Havana and the iconic Varadero resort. It has stunning beaches with rolling hills, panoramic towns and villages, nature parks, and wonderful countryside. Jibacoa proper has a vast range of fascinations and activities and is the entrance to find out several other nearby Cuban regions. Hershey town, with its gardens and train that connects it with Matanzas and Havana, is a huge Tourist Attractions in Cuba for visitors, as are Santa Cruz del Norte, Mirador Los Cocos, and Canasi Village.
10.Baracoa
Baracoa is situated on the spot where Christopher Colombus disembarked in Cuba on his first journey. The Baracoa comes from the indigenous Arauca language meaning "The presence of the sea". This place is the oldest Spanish settlement in Cuba. Visitors to Cuba searching for a more cool experience will get it in Baracoa, a geographically distant location on the northeastern coast of the island. This historical colonial village with its cobblestone streets is located between natural rainforest and tranquil beaches. Visitors will find a beachside promenade (malecón) that runs parallel to the sea and a fantastic village scene of varicolored one-story residences. Adventurists can hire a guide to enquire into the Cuchillas de Toa rainforest, which encloses the village. After spending a day on the beach or trekking in the wild, visitors may want to satisfy hunger with a Baracoan meal of buttery lobster, plantain-stuffed fish, or garlic-rubbed shrimp. You can't miss sweets like Baracoa's local white chocolate and cucurucho.
11. Caguanes Nationa Park
It is situated in the Yaquajay municipality on the northern coast of Cuba. Listed as a UNESCO Biosphere Reserve, Caguanes National Park is the ideal place for eco and adventure tourism. It is spread over an area of 204.87 sq km. The park has Caguanes Cay, Ciénaga swamp, Guayaberas, and Piedra Cays. The park can be entered from Yaguajay in Sancti Spiritus Province on the central Atlantic coast. Visitors can enjoy the park in many ways, but one of the most popular is hiring a guide to experience the 79 coastal caves, some of which go deep underground. Santa María Cay has the clearest turquoise waters for snorkeling and swimming. The manglares, or mangroves, is home to numerous marine and land lives, and the Ciénaga de la Guayabera swamp and mangroves support numerous flora and wildlife.
12. Bayamo
Bayamo is the capital city of Granma Province, the second oldest colonial city on the island. As the headquarters of the war for independence against Spain, it is respected as the birthplace of Cuban nationality. Each October here occurs La Fiesta de la Cubanía, the celebration of Cuban culture and tradition. Visitors can enjoy about two dozen guided tours in and around Bayamo, including city tours by horse carriage or by foot. They can enjoy Turquino National Park, Desembarco del Granma National Park, Rio Macío ecotour, Sierra Maestra jeep safari tours, fishing, snorkeling, trekking, diving, and more. Visitors who come here in January can watch the Heroic Burning of Bayamo celebration. The Bayamo Gourmet International Event is a popular cooking festival.
Tourist Attractions in Cuba
13. Camaguey
This city is located in central Cuba and it is the third biggest city in Cuba with more than 321,000 people. This capital of Camaguey Province is a Mecca of wonderful tourism fascinations that run the gamut from nature to culture to beaches. Once called Santa Maria del Puerto del Principe, the historic center of Camagüey is now filled with plazas and squares, beautiful historical edifices, catching bell towers, and a maze of streets and alleys. The clay pot is the symbol of the city. It is used to contain rainwater that can be used later. You can see clay pots here and there, some are very small and some are really large to house two people in them. There is a local legend that if you drink water from a clay pot, you will stay in Camaguey. This proverb means that if you meet a Camaguayense girl, you will fall in love with her and never leave the city. There are several museums along with an abundance of art galleries. Outside the city, the province is filled with outdoor recreational activities. You can enjoy 120 km long sea beaches, the largest pink flamingo reserve in the west, countless shipwreck dive sites, and the Jardines de la Reina keys and coral reefs for snorkeling.
14. Cardenas
Cardenas is a municipal city in the Matanzas Province. It is the 15th most densely-populated city in Cuba. Cardenas is a port city that is still much like it was in the past. You will see numerous horse carriages and bicycles in the narrow streets here.  This beloved foreign expat city is not distant from Varadero, where most of the people from Cardenas work in the tourism industry. Structures come in a few architectural styles, and there are a few 19th-century military castles. Some popular Tourist Attractions in Cuba include Parque Colon, where the first Cuban flag was hoisted, Plaza Molocoff with its regular vegetable market, the famous Arrechabala rum factory, and two museums – Museo de Oscar de Maria Rojas and the abode of the killed Cuban student leader Jose Antonio Echevarria.
15. Cayo CoCo
Cayo Coco, named after the white ibis, a part of the Jardines del Rey archipelago is joined to Cuba's Atlantic coast by a 17-mile embankment. It is mainly known for its white sandy beaches, crystal waters, and off-the-beaten-path atmosphere. The islands are usually lonesome with the exception of developing commercial tourism infrastructure. The major part of the island's interior is vegetation and is home to over 200 bird species, including a flamingo colony. Activities at this super beach destination include all types of water sports, fishing, kite surfing, diving, and swimming with the dolphins. Tourists who want to venture away from all-inclusive resorts can enjoy modestly priced lobster feasts and other local dishes at sea beach.
16. Cayo Guillermo
A part of the Jardines del Rey archipelago, Cayo Guillermo is linked by the short Puente Hemmingway bridge to its sister island Cayo Coco, which is linked to the Atlantic side of Cuba by a 17-mile embankment. Like Cayo Coco and other cays in the archipelago, it is lonesome except for hotels and other tourism facilities. Similar to Cayo Coco, here, the most popular entertainment activities include water sports, diving, and swimming, idling on the beaches, cycling, and horseback riding. The same natural qualities that distinguish other cays in the archipelago can be seen here too – palm-outlined beaches and crystal-clear water.
17. Cayo Largo del Sur
Vacationers searching for a resort-style Caribbean entrance on a lonesome island can lead to Cayo Largo del Sur in the Canarreos Archipelago. Miles of powdery white sand beaches and shimmering clear water are the key attractions here. You can hire a scooter or a jeep and venture out of the resort. On this 17-mile-long and 2-mile-wide island, there's only one main road. There are some side roads too which are actually sand. El Pueblito is the sole village on the island; visitors can visit a turtle farm, can eat in local restaurants, and visit a dive center there. Resorts offer an array of water sports. It is against law to remove the starfish from Playa Sirena as well as any coral or other sea life, whether living or dead.
18. Santa Clara
Santa Clara, the capital of Villa Clara province in central Cuba, has been revered as Cuba's most revolutionary city. Che Guevara, the revolutionary leader set free the city from the Batista regime in 1958. Now, he is interned with his fellow fighters at Che Guevara Mausoleum on the city's west side. The site is ornamented with a bronze statue of Guevara, and next door is Museo Histórico de la Revolución, which contains a compilation of artifacts commemorating his life. The central square of the city is Vidal Park where visitors will enjoy both free Wi-Fi and wonderful people watching. This college town's cheerful, edgy atmosphere comprises boundary-pushing rock festivals, ironical political art, and Centro Cultural El Mejunje, which metamorphoses into the country's sole gay club on weekends.
19. Cayo Santa Maria
Cayo Santa Maria is a fantastic key off the northern coast of Cuba's main island, situated in the Bahia de Buena Vista. This key, along with its two nearby locations Cayo Ensenachos and Cayo Las Brujas, form the cool resort destination of Los Cayos de Villa Clara and are entered via an embankment from Caibarien. Its key attractions are its primitive sugar-white sand beaches and glorious crystal-clear waters in the northern section, where many of the resorts are situated. The southern coast is engrossed by salt marshes, forests, and mangroves. Visitors can enjoy fishing, scuba diving, and snorkeling and they should not miss views such as the Dolphinarium and the Wildlife Refuge.
Tourist Attractions in Cuba
20. Cienfuegos
Cienfuegos is located in the central-southern region of Cuba. The Historic Centre, a UNESCO World Heritage Site, mirrors this place's pride and charm. The city is a cultural oasis with a French-style ambiance, home to many famous authors and musicians such as Benny More, a singer, songwriter, and director whose tomb has been a National Monument since 2009. It is also a naturalist's dream venue with environmental and ecological wealth such as the Macizo de Guamuhaya, El Nicho, Jagua Bay, Yaguanabo Valley, and the botanical gardens, which are worthy of mention. Visitors can enjoy other activities including city tours, the Dolphinarium, the Cuban Cigar Factory, and a Guanaroca Lagoon.