1. Bai Tu Long Bay
Situated in northeast Vietnam, Bai Tu Long Bay is a stunningly beautiful island that extends for some 100km to the Chinese border. The Bai Tu Long National Park parts the border that of the famous Ha Long Bay. The island is as wonderful as its nearby destination. It is a perfect destination for those who would love to escape the overcrowded Ha Long Bay and expend sometime exploring nature all by them. One can enjoy a boat trip into the Bai Tu Long region and get pleasure in the slow life on this island.
2. Ninh Binh Province
Enriched with natural splendor, central Vietnam based Ninh Binh province provides views of cultural beauty and wildlife in the national park and conservation area. Situated south of Hanoi, Ninh Binh province is one of the famous spots frequently visited by native travelers and also international ones. The key attractions of this place include the landscape of Tam Coc that can be visited by taking a conventional boat ride and also seeing a UNESCO Site of Trang An Grottoes. Also being totally commercialized, you'll find many resorts and restaurants here. Since Ninh Binh province is situated near Thanh Hoa Province you can see Samson Beach for a zestful day and the wildlife conservation area, Cuc Phuong.
3. Quy Nhon
Quy Nhon is a beach likers' heaven. Located in Central Vietnam, Quy Nhon is one of those locations that you would like to get up every morning at. Immaculate, garbage-free paths and white sand beaches make this location a hot favorite of visitors across the world. It can also be a perfect honeymoon destination in Vietnam undoubtedly. Enjoy fresh seafood, plenty of natural splendor and excellent guesthouses to crash into.
4. Phu Quoc Island
The white sand beaches and the deep tropical forest mark the Phu Quoc Island that is located in the Gulf of Thailand. Phu Quoc is classified to be a tear-shaped island and is slowly changing to become a must-visit beach destination in Vietnam. The island provides good chances to explore, dive the reefs, kayak in the bays, eat up the back-road miles on a motorbike, rest on the beach, enjoy a massage and dine on fresh seafood.
5. Cat Ba Island
A beautiful fishing village of Vietnam, Cat Ba Island is thought to be one of the biggest amongst the wide group of islands situated in the west of Ha Long Bay. Cat Ba in Vietnam provides a view of jungle-covered limestone pinnacles; wonderful valleys; and coastal plains. Although most of the islands here are unreachable, a trip to Cat Ba fishing village with some of its portions still undiscovered by civilization may make you feel invigorated. Half of the Cat Ba Island is formally declared a national park to protect the wonderful ecosystems. The untainted portion of this island range from offshore coral reefs, coastal mangrove swamps to tropical evergreen jungle. There is, however, the visitor-filled part that houses several resorts enabling the tourists to see the nature and wildlife around Vietnam's affluent diversity.
6. Phan Rang
Phan Rang is a tourist destination that is affluent in historical draws. The city is where the remains of Po Klong Garai can be best seen. One of the best sites to visit in the city is Po Re Me towers. Phan Rang is also at a little distance from one of Vietnam's most attractive Cham villages called Tuan Tu. Once finished with sightseeing in the city, one can advance to the pleasant Ninh Chu Beach, which is another fantastic weekend destination in Vietnam.
7. Mui Ne
One of the most vibrant beach destinations in Vietnam, Mui Ne was once a calm unsung destination that remained neglected by the visitors. Now, the site is one of the most bustling weekends draws in Vietnam. Mui Ne is located at a little distance from Ho Chi Minh City and thus can be called an inclination for high-end tourists who are eager to pay a big sum to reside in delicate resorts. Mui Ne provides a laid back ambiance and has a good extension of flexible sand. It is an ideal spot to relax and get that perfect tan.
8. Con Dao
Con Dao Archipelago is an untainted destination in Vietnam. Although calm in nature, it mirrors a turbulent history under French as Con Dao was once house to the most frightening jail in Vietnam. Today, Con Dao has opened its gateway for tourism. The biggest island of the Con Dao archipelago is Con Son, which is a regular entrance with some presentable colonial edifices, excellent beaches, and challenging treks and national parks. Some of the best process to enjoy in Con Son is by trekking in the national park, diving, seeing sea turtles laying eggs and spending time out in the beaches.
9. Kon Tum
Located in the Central Highland, Kon Tum is a silent city standing on the bank of the Dakbla River. The site is without any hustle and bustle and thus makes for a wonderful place to visit in Vietnam. Although the town is the root for traveling other beloved places in Central Highland, it has some must-visit draws of its own involving the colonial-era architecture. The location is perfect to grab a drink or two after the sunset when most of the city comes to ease.
10. Ben Tre
Vietnam has different destinations that are for those who love to be in an isolated place. One such backdoor jewel is Ben Tre. Located on the verge of River Mekong, Ben Tre is amongst the best kept secluded place of Vietnam. The place has draws like a coconut candy factory. A perfect day in Ben Tre would be to find the factory to taste their premium sweets, set sail at evening to catch fireflies and experience beautiful sunsets. Ben Tre is truly a place for romance and perfect to visit with your spouse.
11. Da Lat
The foggy valley of Da Lat attracts visitors from around the world to discover their strip of heaven in the form of this excellent destination. Enriched with healthy climate, wonderful scenery, lush pine trees, and colorful flora, Da Lat was once the Vietnamese emperors' and French colonials' summer recession. Now, this beautiful town located in the South Central Highlands of the country is a beloved destination for those seeking leave from the heat. The utmost way to enjoy the city is on foot and can expect to observe the scenic beauty of French colonial architecture and villas established amid photogenic landscapes.
12. My Son
A significant archaeological site, situated close to the Duy Phú Village on the central coast of Vietnam, My Son is one of the most significant old sites of Southeast Asia. Once being the important place for Hindu rituals, My Son is where you can observe several ancient wonders of temples devoted to Lord Shiva. It is thought to be constructed between the 4th and 14th century by the then administration, the Champas.
13. Ho Chi Min City
Standing on the bank of Siagon River close to the Mekong Delta, Ho Chi Minh City was the epicenter of South Vietnam during the Vietnam War. Now, it is the biggest city in the country and provides a rich mixture of historic and contemporary draws to the tourists. Ho Chi Minh is beloved for its wonderful nightlife, slender skyscrapers, and marvelous silhouette. A perfect thing to do in Ho Chi Minh is to be in one of the sky bars and appreciate the magnificent view of the city by night.
14. Mekong Delta
Perhaps, the key tourist attraction in Mekong Delta is the spectacular floating market that trades miscellaneous locally grown items. This place also provides visual entertainment to the eyes by taking you inside the rural villages, lush rice paddy fields, fruit gardens, and sugar cane groves as well as bird shelter. Unnecessary to say, you'll have a wonderful experience traveling south-western Vietnam in Mekong Delta. The neighboring Mekong River also serves as a booster to make this agricultural area productive by forming a labyrinth of canals and streams, thus it is also familiar as the 'Vietnam's Rice Basket.' The Delta that extends between the Gulf of Thailand and Ho Chi Minh City provides flourishing cultivation to over a third of the country.
15. Nha Trang
Situated off the shore of South Central Vietnam and on Asia's most charming bays, Nha Trang is a beloved seaside city. Ornate photogenic mountains, beaches and green islands, Nha Trang makes one of the most beautiful places to spend leisure in Vietnam. The city is a scuba divers' and beach likers' heaven and ornamented with resorts, shaking palm trees and a wonderful promenade. One can also find entertainment and water parks here adding to make it nothing but one of the most attractive tourist spot in the country.
16. Sa Pa
Sa Pa is perhaps one of the ideal destinations for the tourists in Vietnam. Encompassed by dramatic mountains, rice terraces, Sa Pa is a wonderful city that is often used as a root for trekking in the Hoang Lien Son Mountains and visiting rice fields and traditional villages. Tours around Sa Pa offers the chances to observe charming waterfalls; experience lovely food, amusing customs and the lifestyle of the native tribes. One must enjoy trekking in the hills of Sa Pa for unmatched sights of the forests and mountain ranges of north-west Vietnam.
17. Hue
Hue is the cultural epicenter of Vietnam, if I may consider it in this way. The city is full of temples, graves, pagodas, and palaces to be visited. Affluent in culture, Hue is an accepted UNESCO World Heritage site and is home to the Citadel, which was the emperor's private abode in former time, and the Forbidden Purple City, where he kept his concubines. The city stands quietly on the verge of Perfume River and was once also acted as the royal capital of the Nguyen dynasty. The testimonies of the magnificent time are ideally mirrored in the city's architecture, culture, and cuisine, making it one of the best spots to visit in Vietnam. Another significant landmark on the river is the city's official emblem, the Thien Mu Pagoda.
18. Hoi An
Vietnam's wonderful ancient city of Hoi An is situated in South Central Vietnam, just off the shore of the South China Sea. Hoi An brags about its historic architecture, heritage, and affluent culture that you can observe by wandering around the city. The city dated back to 2,000 years during the Champa Kingdom. Hoi An is also well known for making fine textiles and that follows with trading custom-made garment, shoes, bags, souvenirs and more through the tailor stores. The ancient city of Hoi An is beautifully situated with a tranquil scenery in their slender and devious lanes ornamented with old architectural timbered houses on the sides. Hoi An is also a perfect place to experience native Vietnamese street food. Even better, if you are eager to know the art of preparing food in Vietnamese style, you can go to a half-day cooking class.
19. Hanoi
Amidst the hustle of Hanoi, one can discover an emotional and unmatched mixture of history and modernity. Expect to confront exceptional tranquility in the Temple of Literature, peace of mind and soul at One Pillar Pagoda, and a delicacy to taste buds at the French patisseries. Hanoi is like an open-air museum of historic Asian and French colonial architecture that has survived unharmed despite the intense bombings during the Vietnam War. All things in Hanoi from dramatic tree-lined boulevards to bustling market places; fantastic cafes to the Grand Opera House and from the Presidential Palace to Saint Joseph Cathedral have something amusing to tell to the tourists. The city is friendly and thus it's a must visit place in Vietnam.
20. Ha Long Bay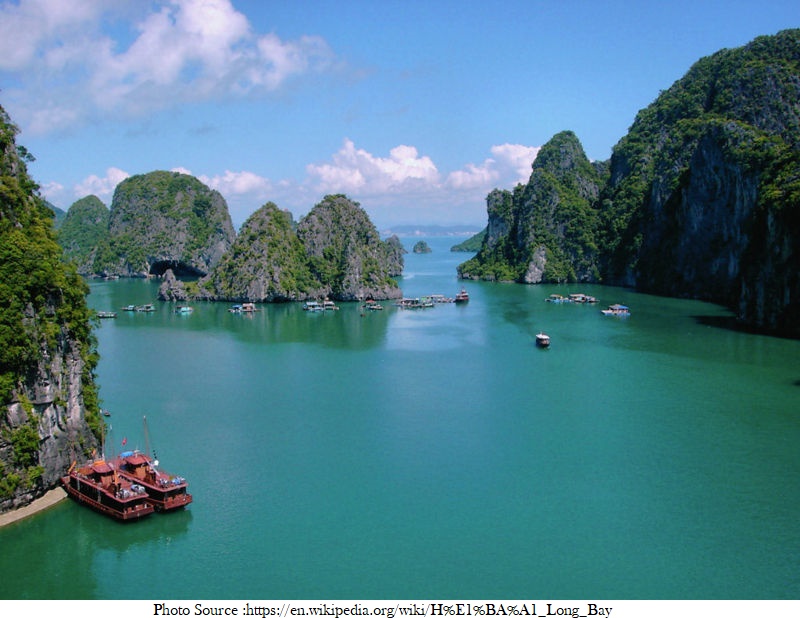 Ha Long Bay is perhaps the identifier of Vietnam. Situated nearly 130 km east of Hanoi in northern Vietnam, Ha Long Bay is familiar for its aqua-green water; a group of rising limestone rocky outcrops and verdant forest. The island is actually one of the most beautiful places in Vietnam and the frequently visited one as well. One can observe wonderful caves and lakes. It is stunning to see how over the centuries this island has been naturally formed into something so wonderful. Kayaking is one of the best methods to enjoy Ha Long Bay.
21. Marble Mountains
South of Da Nang, Vietnam, located the Marble Mountains. These five pinnacles are mentioned after the five basic elements of earth, water, wind, fire, and wood. The mountains are photogenic on their own, but they are also abode to innumerable caves, some of which house unbelievable Buddhist citadels. Several caverns are the home of Confucian or Buddhist monasteries, and others were utilized as shelter and hospitals during the Vietnam War.
22. Saigon Notre Dame Cathedral
In Ho Chi Minh City, or Saigon, located the wonderful Notre Dame Cathedral. Established in the late 19th century, the cathedral is brick-built, neo-Romanesque and definitely influenced by European architecture of the same era. As a matter of fact, many of the elements used in construction were imported from France. While the outer part is attractive, the inner part is also worth exploring. Find the remaining stained glass panels and engraved tiles and a sculpture of the Virgin Mary.
23. Tam Coc
In the Ninh Binh province of Northern Vietnam close is Tam Coc, which interprets to English as three caverns. The three caverns are located in a panoramic landscape of limestone precipices and rice fields, and the river flowing through this area. The caverns are referred to as Hang Cả, Hang Hai, and Hang Ba, and they are the area's key attraction. Guided boat journey will take you to the caverns and along the Ngo Dong River, which is frequently dotted with drifting vendors capitalizing on the visitors visiting on a day tour from Hanoi.
24. My Khe Beach
The most panoramic spot in Da Nang is disputably My Khe Beach. Also familiar as China Beach, this was where US servicemen were transported by helicopter in for R&R at the time of the Vietnam War. Now people visit here however for its primitive white sand, blue aqua, and sunny skies. Tourists can hire a lounge chair on the sand, rest in the shade beneath a thatched umbrella or hire a kayak from neighboring vendors. Plenty of hotels and cafes are within walking range of My Khe Beach, creating it a hub for tourists as well as natives in search of stunning views.
25. Temple of Literature in Hanoy
In the city of Hanoi, there is a beautiful temple devoted to Confucius. Established in the 11th century, the Temple of Literature admires scholars and the plenty of academic feat of the Vietnamese, past and present. The Temple of Literature was even the location of the foremost university of the nation. Among innumerable sculptures of Confucius and his followers, there are attractive pagodas and a tank familiar as the Well of Heavenly Clarity.