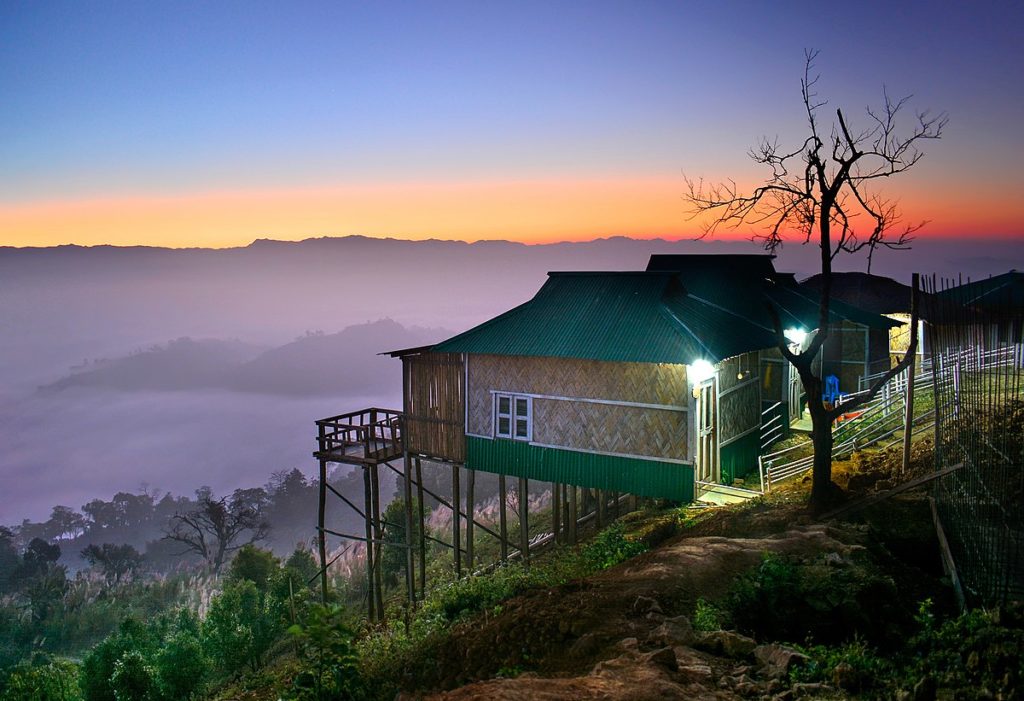 Discovering Sajek Valley:
Discovering sajek valley is one of the topmost tourist destinations in Bangladesh. Located among the hills of Kasalong range of Baghaichhari Upazila in Rangamai District, this place is about 1800 feet above the sea level.  It is known as the queen of hills and roof of Rangamati. Sajek valley is 80 km away from Khagrachari town and 90 km northwest from Rangamati town. It is only 8 km away from Mizoram, India. It's lush green, scenic beauty of hills, wilderness, the opportunity of playing with clouds attract the tourist to come here. To enjoy its natural beauty every day thousands of the tourists come here.
No word is enough to define the beauty of Sajek Valley. The deep forest, grassland, hilly areas make it a wonderful tourist spot and one of the best choices among the traveler, adventure lover and digital nomads.  At the peak of the Discovering sajek valley, you will see the passing clouds around you even you can touch them. This picturesque beauty will make you feel the view of heaven on earth. The curvy hilly roads, small rivers among the hills make this place thrilling. The weather of Sajek changes frequently.
The local people are very amicable and hospitable. Most of them are of different ethnic minorities. Among them Chakma, Marma, and Tripura are mentionable. Their families are maternal. Women are the head of the family. From the very starting of the journey, the Bangladeshi Army ensures the protection of the tourists. So there is no question about the security.
Top Tourist attractions:
The route of Sajek valley
This road will give you one of your life's most memorable journeys. The serpentine road through the hills is enchanting. In some places, these roads are too high on the hills that when the vehicles start to ascend you'll feel the lower part of your body start disconnecting from the upper part. After a while when the vehicle goes down from the upper hill, you'll experience the opposite feeling. After continuous ups and downs, at last, you'll arrive at Sajek Valley
Sunset from the Helipad:
There is a helipad on the valley and you can enjoy the red glow of setting sun from this place. Lots of tourists come here to enjoy this natural phenomenon. They walk, gossip, take photos and sing loudly here. Sometimes tourists pass time here even after sunset. Standing at the edge of the mountain for a long time they enjoy the surrounding nature.
Sunrise in the hills:
Another thing that will mesmerize you here is the sunrise. Get up early to experience the wonderful sunrise. As the hills are covered with clouds, when the sun rise it may seem that it is coming out of cloud. When the sun comes out of the cloud completely and shines all over valleys you will feel a heavenly feeling. Just close your eyes, keep calm and quiet, take long breath and feel the whole phenomenon. I'm sure that you will think life is beautiful.
Konglakpara:
After experiencing the wonderful sunrise you can go out to get introduced with the local people's life style. Konglakpara is a nearby locality on Konglak Hill. To go there you have to trek 30-40 minutes. Konglak hill is not hard to trek and even if you have no previous experience of trekking, you will be able to climb the hill easily. From Konglak hill you will be able to see the scenery of India borders, the clouds, the surrounding hills, Sajek valley etc. Here you will know about the local people's lifestyle. There are some orange gardens in this hill. You can buy banana and papaya from the local people. They are cheap and delicious.
Sikam Toisa Water Fall:
Also known as Komlok Waterfall or Pidam Toisa Waterfall, this waterfall is really difficult to reach. A steep hilly road on the right side of Ruilui Para- Helipad road leads to this waterfall. You have to trek very steep hilly road, somewhere 80-85 degrees to reach there. Inexperienced and bulky people are requested to avoid this waterfall but if you have experience of trekking hills and if you love to explore then this wonderful waterfall is for you.
Discovering sajek valleyHow to go:
Sajek valley is located at Rangamati but people like to visit Sajek via Khagrachari. Both A/C and non-A/C bus service is available from Dhaka to Khagrachari. The journey takes 7 hours. From Khagrachari you can go to Dighinala by a CNG driven vehicle or four-wheeler. These vehicles will take you to Baghaichari Bazar and then the valley through Dighinala. If you want to go to Dighinala from Dhaka directly then you can go by Shanti Paribahan.
Where to stay:
The whole valley is full of hotels and resorts. These resorts are controlled by Bangladesh army and Bangladesh Border Guard. Here you will find both cheap and expensive options to stay according to your budget. From these hotels and resorts you will find the wonderful picturesque beauty of this valley.
Food:
There is no signature food that can be enjoyed by the tourists here. Chickens and vegetables are available. Tourists can enjoy pork but don't expect beef here. There are some halal restaurants for the Muslims. Cakes, biscuits and other snacks are a bit costly here.
Drink:
There are coffee shops here and they make coffee really nice. Tourist can enjoy the brewing coffee and recharge themselves for trekking hills.
Some Important Information:
You can visit Discovering sajek valley all around the year. Bu,t as the clouds and sudden rain is the main attraction of this valley so it's wise to visit in the rainy season. From June to September is the best time to visit here. As there are some reports of some malaria cases, it's wise to carry mosquito repeller. As there is no supply of electricity here, tourists are suggested to carry power banks for their mobiles and extra battery for their cameras.